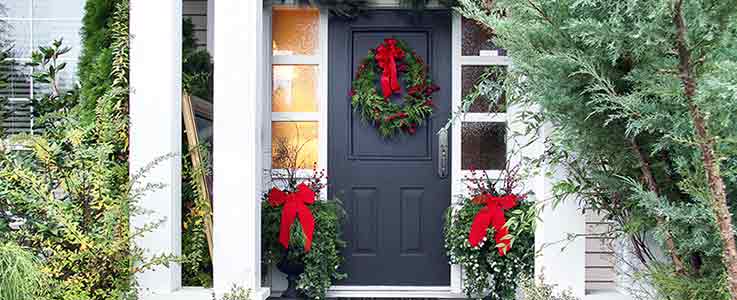 As we near the arrival of Christmas, our attention turns to creating a festive vibe around our front door to welcome our friends and family. We've pulled together some options for creating the right look and feel at your front door. Whether you like colour, have a shady spot or want plants that will last, our guide gives you the best option for you!
Festive colour
When it comes to having a vibrant splash of colour, then the patio cyclamen are the best performers. When planted around white viola or pansy they really do create that sense of Christmas.
Evergreens
However, there are many other hardy, evergreen plants that can create the same look but with added longevity, so they can see you through more than just one season.
Sarcococca humilis not only has deep green glossy leaves that can be used for interior arrangements, but also produces small white highly fragranced flowers from mid-December onwards, hence it is commonly called 'Christmas Box'.
Leucothoe is another of those evergreen shrubs that creates a real sense of yuletide with its rich red foliage. 'Curley Red' is particularly good in containers.
Shade loving and container plants
If your front door is a little shady then Skimmia Japonica Rubella is the perfect choice. This shade-loving evergreen shrub holds tight red buds over Christmas that open into starry white flowers in late winter.
'Christmas Rose' tells you all you need to know. Of course, not really a rose, Helleborus Niger is an evergreen perennial which produces beautiful white flowers around the festive period. Shade and drought tolerant, they work really well with Skimmia.
Nandina domestica 'obsessed' is another fantastic option for containers. They do like a little shelter in the winter so are ideally suited to being located by a front door. Although referred to as the 'Sacred Bamboo' its not a bamboo at all and is really quite compact, controllable and also produces white flowers in the summer followed by berries in the autumn. A great allrounder.
If you are looking to get some height, then using an obelisk with Trachelospermum jasminoides (Star Jasmine) will give the desired effect. This climbing plant turns a deep red when the temperature drops but does not lose its leaves. Once the temperatures warms up again it flushes through green and produces the most amazingly fragrant white flowers in summer that smell like jasmine.
Christmas trees
Of course for some, nothing says Christmas quite like a real Christmas tree. Be sure to buy a container grown tree as opposed to a containerised. These will have a better chance of survival as they have an established root system within their pot. The containerised trees are generally cheaper but they would have left at least half their roots behind in the field where they were grown and lifted from.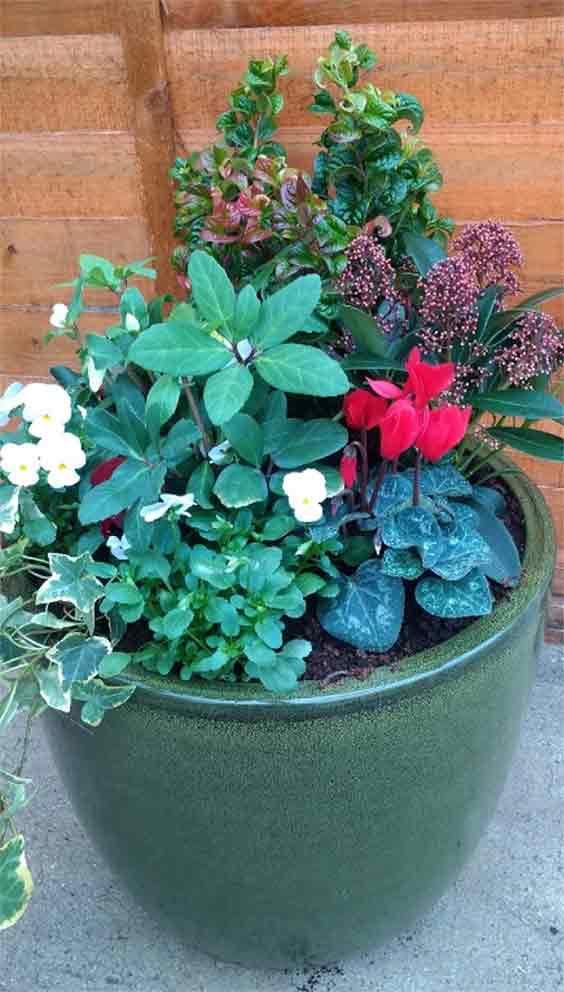 A simple arrangement perfect for a semi shady front door.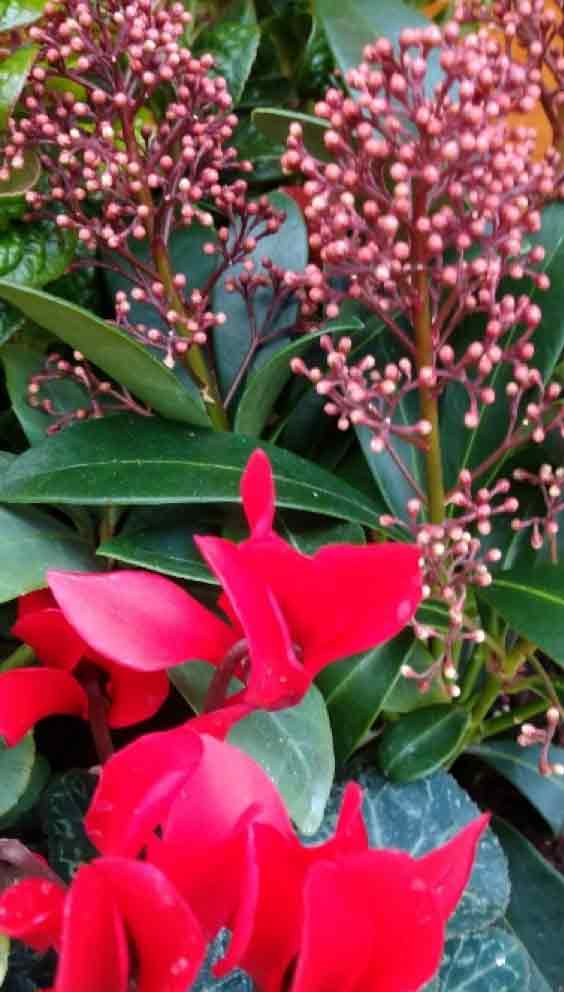 Patio cyclamen backed with Skimmia japonica and Leucothoe Curley Red