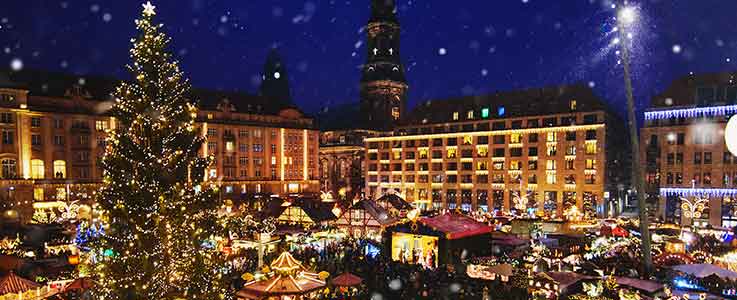 16th Century Christmas Trees
Germany is credited with starting the Christmas tree tradition as we now know it in the 16th century when devout Christians brought decorated trees into their homes. Some built Christmas pyramids of wood and decorated them with evergreens and candles if wood was scarce. It is a widely held belief that Martin Luther, the 16th-century Protestant reformer, first added lighted candles to a tree. Walking toward his home one winter evening, composing a sermon, he was awed by the brilliance of stars twinkling amidst evergreens. To recapture the scene for his family, he erected a tree in the main room and wired its branches with lighted candles.
Global adoption of Christmas Trees
Most 19th-century Americans found Christmas trees an oddity. The first record of one being on display was in the 1830s by the German settlers of Pennsylvania, although trees had been a tradition in many German homes much earlier. The Pennsylvania German settlements had community trees as early as 1747. But, as late as the 1840s Christmas trees were seen as pagan symbols and not accepted by most Americans.
It is not surprising that, like many other festive Christmas customs, the tree was adopted so late in America. To the New England Puritans, Christmas was sacred. The pilgrims's second governor, William Bradford, wrote that he tried hard to stamp out "pagan mockery" of the observance, penalizing any frivolity. The influential Oliver Cromwell preached against "the heathen traditions" of Christmas carols, decorated trees, and any joyful expression that desecrated "that sacred event." In 1659, the General Court of Massachusetts enacted a law making any observance of December 25 (other than a church service) a penal offense; people were fined for hanging decorations. That stern solemnity continued until the 19th century, when the influx of German and Irish immigrants undermined the Puritan legacy.
Royal Christmas Trees
In 1846, the popular royals, Queen Victoria and her German Prince, Albert, were sketched in the Illustrated London News standing with their children around a Christmas tree. Unlike the previous royal family, Victoria was very popular with her subjects, and what was done at court immediately became fashionable—not only in Britain, but with fashion-conscious East Coast American Society. The Christmas tree had arrived.
It is now believed that over 50 million real Christmas trees are distributed and sold around Europe every year. And although the Americans were late on the uptake they now sell in the region of 35 million trees every year.
Buy Christmas Trees at Burston Garden Centre