When buying a new barbecue the first question people often ask themselves is "do I want a charcoal or gas barbecue?". There are a few things you should consider before making that all important purchase. Are you a traditionalist? Are you all about the flavour? Do you just want to cook for a large group of people whilst enjoying the sun? These are all things to think about before you take the plunge.
To try to help, we've pulled together some pros and cons of charcoal vs. gas to help you make that decision.
Charcoal BBQs
Charcoal is where most people start off when they buy their first barbecue. You simply grab yourself a bag of charcoal and away you go. Unfortunately it is not always that simple. Anyone who has ever cooked on charcoal before has spent at least one summers day waiting for those briquettes to burn hot enough to cook on. Although various barbecue brands such as Weber and Landmann have introduced chimney starters to speed this process along you're still going to be waiting 20 or so minutes for your charcoal to be ready. Are you cooking for a large group of people whose stomachs are rumbling? Do you have the patience to wait it out? If not then charcoal is probably not for you.
Having said that once you get that food your patience will be rewarded. There is nothing better than a charcoal grilled chicken or burger,  cooked to perfection on charcoal. With the introduction of flavoured wood chips, the possibilities of flavouring your food are almost endless. If you are a real foody and taste is key, then a charcoal barbecue is the one for you.
Gas BBQs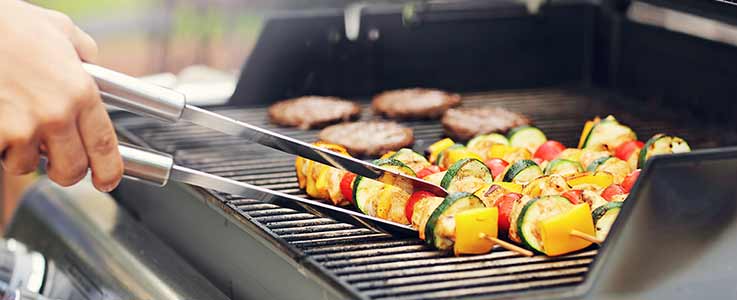 A gas barbecue is often the centrepiece of any outdoor summer party. We've all been to a party where there's a massive six burner barbecue with stacks of food grilling away. So if you are someone who loves to entertain a host of people,  you cannot beat a gas barbecue. With them now ranging from smaller two burner barbecues all the way up to an all-singing, all-dancing six burner, you are bound to find one which will fit your needs.
Having said that,  you need to make sure you've got that all important gas bottle. The question people always ask themselves before a big barbecue is "do I have enough gas?"  If you leave it to the last minute to replenish your gas supply you may find yourself coming un-stuck with no gas and having to cheat and cook your burgers and sausages in the oven.
If that's not the case and you've got plenty of gas in your bottle, then you've got all the tools necessary to cook outside at your fingertips. Gas barbecues heat up in a matter of minutes so that all important party you've been planning for weeks is ready to go.
Buy the right BBQ for you!
So in summary, you need to buy the barbecue that's right for you. Whether you want the convenience of gas or the traditional taste of charcoal we've got plenty to choose from here at Burston Garden Centre. Come in and chat to one of our team, who will help you find the perfect barbeque for you!