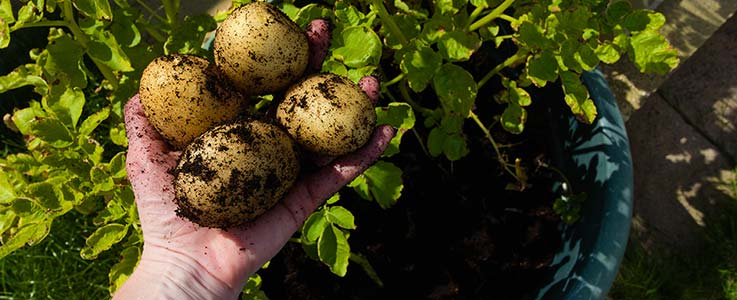 There is nothing more satisfying than growing, harvesting and eating your own potatoes. Most of the nutrients found in a potato come from the skin, so growing your own and knowing that no nasties have been used during the growing process, means you can just scrub away the dirt and keep the skin in tact. Plus did you know that the humble potato has as much potassium in it as a banana.
Many people do not realise how simple the process is, so have a read of our guide to see how to get started.
Types of Seed Potato
Seed potatoes are generally available in 3 types:
For beginners we highly recommend starting out with 'first earlies'. They will grow the quickest and crop in around 10 weeks from planting. Potato 'Rocket' is the perfect choice for a first early,  as it has good all-round disease resistance and can be grown in bags or in the ground.
First earlies should be planted out in March.
Our seed potato 'taster packs' are available to buy in store now from only £1.99
Planting Seed Potatoes in Grow Bags
For first time growers, we recommend using potato growing bags rather than sowing into the ground.
Before you plant the potatoes, they need to be 'chitted'. This is essentially just growing shoots out of the tubers before you plant them. This will speed up the growing of the plant and will result in heavier crops.

To chit potatoes, simply place them upright in a light, cool, but frost-free place. Keep an eye on your potatoes whilst they chit and wait for strong, short green shoots to appear. This usually takes around 4- 6 weeks and you should wait until they're around 2-3cms long from the eyes of each tuber.

Top tip: We recommend placing your potatoes in an old egg box during the chitting process. 

Once the 'chitting' process has been completed, fill the bottom of your growing bag with a couple of inches of multipurpose compost and plant your seed potatoes. You can normally fit around 3-5 tubers per growbag. Fill with just enough compost to cover the tops of the tubers.

Top tip: for even better results, mix an organic vegetable fertiliser into the multipurpose compost.

Water the growbag well and ensure the compost mix never dries out. Position your grow bag somewhere that gets plenty of sun.

Potatoes grow from the stem beneath the surface, so keep covering the foliage with more compost as it grows until the sacks are full. This process is known as 'earthing up'.

After 10 weeks from planting, your potatoes should be ready to harvest. Try a test dig to see if they are of a useable size. If they are still small, leave for another couple of weeks until they are ready.