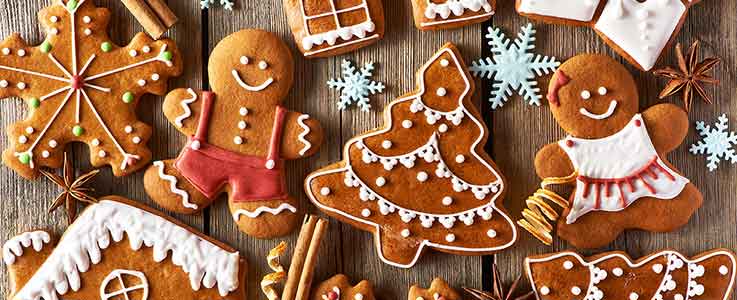 Looking for a lovely Christmas activity that doubles up as a gift too! Our special gingerbread recipe is an easy and fun recipe to do with the kids on a cold winters day. If you wanted to inject some fun into your baking, we have a samurai santa cookie cutter set available. Alternatively if you don't have the time or energy for baking the gingerbread, we have some decorate your own gingerbread house and trees and other baking kits available.
Ingredients:
Makes 15 dependent on the size of the cutters
5 1/2 teaspoons ground ginger

1 1/2 teaspoons ground cinnamon

1 teaspoon bicarbonate soda

175g light brown soft sugar

4 tablespoons golden syrup
Method
Ask your adult to preheat the oven to 180 C / Gas 4.

Put the flour, butter, ginger, cinnamon and bicarbonate of soda in a mixing bowl. Enjoy mixing it all together using your fingertips until it's crumbly! Add the sugar, syrup and egg and mix until it is thick.

Now for the messy bit! Dust an area of work surface and your rolling pin with flour, which will help stop the pastry sticking. Now you're ready to roll out the pastry to about 5mm thick using your rolling pin. Use gingerbread men cutters to cut out shapes.

Place your gingerbread shapes on a greased or non-stick baking tray.

Ask your adult to pop your gingerbread into the oven and bake in the preheated oven until golden. If you have a fan assisted oven they will be ready in 10-12 minutes and 15 minutes for a conventional oven.

Enjoy and decide if you want to share them!