Planting up containers is a good way to create beautiful displays using many kinds of garden plants for seasonal interest. Containers come into their own when space is limited allowing you to move and arrange plants more easily than those in the ground to suit your mood.
There is a wide range of pots to choose from. Be sure to get one that is large enough for your plant, has drainage holes and will suit the style of your garden.
Terracotta pots look attractive, but tend to dry out more quickly than plastic. Look out for frost-resistant pots as they are less prone to cracking or stand pots on feet over winter to prevent them becoming waterlogged, therefore reducing the risk of frost damage.
Plastic pots are lighter than terracotta and do not dry out as much. There is a wide range of plastic pots available, some even look like terracotta and may be cheaper but not as authentic in appearance.
Metal pots have a modern look and are frost-proof and will not dry out like clay. They can heat up quickly in summer and are very cold in winter and can potentially corrode.
Wooden half barrels are popular for growing fruit trees. Line them with plastic sheeting with holes in the bottom. Painting the wood with a preserver helps to extend the life of your barrel.
Of course it is possible to grow plants and vegetables in a wide variety of items including old tea pots, colanders, baths, with jars and tins also making quirky recycled containers.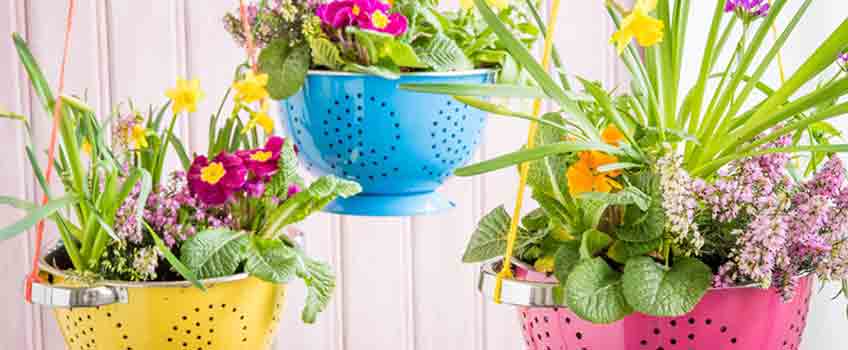 To prepare your pots fill them with fresh peat free multipurpose compost.  If you are growing long term plants or shrubs use John Innes compost.  Acid loving plants like rhododendrons, camellias and japanese maples need ericaceous compost to flourish.  Compost can be improved by adding water storing crystals such as Watergel by Gardman. These swell up when the compost is watered and act like mini-reservoirs, providing water when the plant needs it.
Also controlled release fertiliser granules such as Osmocote or 'Feed All' help to provide your plants with a balanced diet all season. As the plants start to flower then a fortnightly application of tomato fertiliser will enhance blooming to give a show stopping floral display.
Many pots have a single, large drainage hole at their base so to prevent this from becoming blocked with compost, cover with a layer of broken bits of crock and use feet to raise the pot off the ground to help water drain freely and prevent a build-up of moisture at root level.