Although summer may be a distant memory and with winter just around the corner, autumn brings an abundance of wonderful rustic colours which should serve up a host of inspiring ideas for your garden. We will take you on a journey which starts with these seasonal colours and suggest a range of ideas of how to make the most of even the most unlikely garden space.
Colour Inspiration
The change in light patterns during the autumn can also have a profound effect on the colouration and patterns in your garden. The autumn light can bring a sparkle to herbaceous borders, whereas the low sun can increase the effect of shadows and movement from taller plants.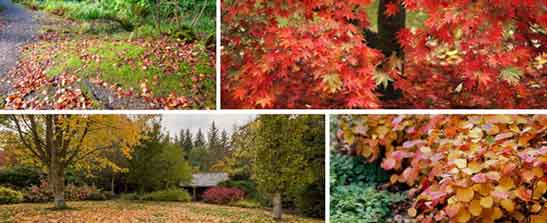 Floral Inspiration
If you are looking to brighten up your garden pick an area which will be lit up by the low sun and try to plant flowers together whose colours will provide pleasant contrast. Sunshine coloured yellows will work well next to bright and breezy reds, as they will against dark purple. Different shades of pastel pinks will look very attractive, as will subtle shades of purple. Woodland colours and tones will of course also lend themselves well to an autumn garden. Different varieties of daisies are available in various shades of pink, blue and white and will make quite the centrepiece of any border. Chrysanthemums come in a range of stunning autumnal colours and are a striking way to liven up any patio or container. Crocuses are another flower whose goblet shape and vivid colour are ideal for autumn as they react to the lowering soil temperatures and dampening of the soil. If you are looking to add a splash of violet to your garden, then these will be a wonderful addition.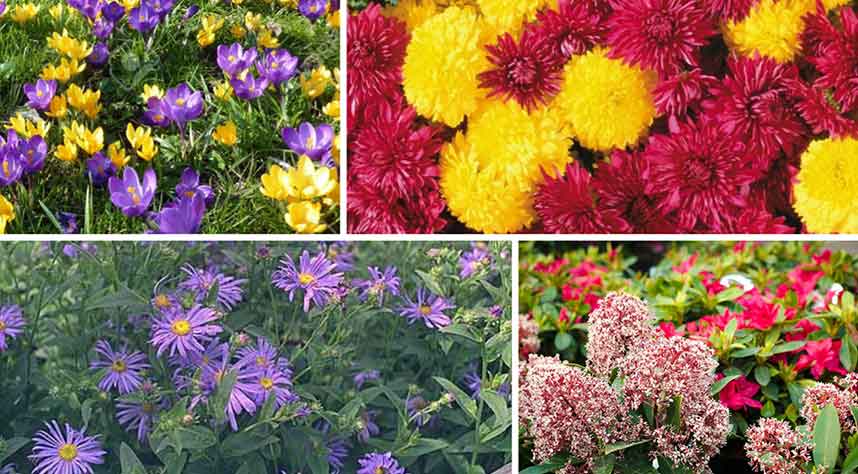 Potting & Container Inspiration
Planted containers can be used in any garden ranging from a small balcony up to a large patio or garden. This enables plants to be used as a feature or for some seasonal colour. Depending on your style and choice the pots can be matching sleek and smart, or all different shapes in the same colour but different heights and or different colours too, the choice is all yours. When picking your pot you need to make sure it is big enough to accommodate your plant and extra compost and also that it has holes in the base to allow good drainage. Some things to consider before starting to plant your containers – make sure you have the following an appropriate size pot for your plant, broken polystyrene bits or stones to put at the base for drainage, the correct compost for your chosen plant, the plants you are going to use. Follow the steps below to your perfect planted container:
Water the plants you want to plant first
Put the polystyrene or stones in the base of the pot
Add the appropriate compost a bit at a time and press down with your hands as you go, firming the soil down will eliminate any air gaps that could freeze in the winter.
If planting a larger shrub put enough compost in the container to stand the base of the plant on so the top of the root ball is just below the top edge of the pot. Remove the plant from its original pot and once in position firm in with additional compost.
If planting an arrangement of smaller plants fill the container to the top. Place the plants in size order usually the taller plants go towards the back or in the middle of the container and the smaller ones around the outside. Place them in the pattern you would like to make sure you are happy with them, make a note of where they were before you take them off the pot, remove the plants original pots before planting them into the soil, you may have to remove some soil as you go but this can be replaced once all plants are in place.
Once all the plants are in the containers they will need to be watered gently so not to dislodge the compost.
Your plants will get thirsty so please check the watering regularly as potted plants can dry out easily. Container plants will also get hungry so please feed in the growing season with the appropriate feed.
We have a fabulous selection of pots and troughs in a variety of materials including ceramic, terracotta, resin, plastic and wood and plants ranging from Pansy and Prims in the winter to a huge selection of summer bedding plants that can be mixed with smaller shrubs and Ivy plants. We also have larger shrubs and small trees that can also make excellent plants for containers. We also have a beautiful selection of containers already planted up for you.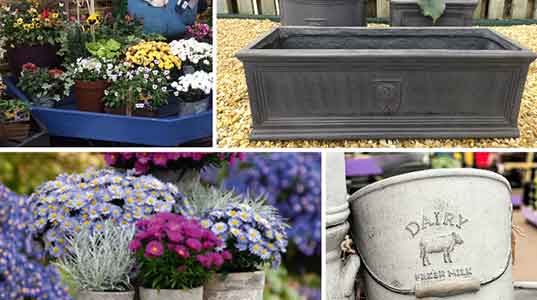 Garden Accessories & Decoration
Of course you don't have to limit yourself to purely floral decoration in your garden. Here at Burston we have a range of furniture and decorative items which will help to give your garden a functional, rustic feel. Here are a few ideas to inspire you into making your garden a space you can enjoy this autumn. With the nights drawing in, you may like to bring a touch of light to your garden. This is easily achieved with a tea light or perhaps even a candle kept in windproof lantern. If you are looking to be a bit more creative in how you create atmosphere then it might be a novel idea to use some coloured bottles or solar powered lanterns.
If you have been living at your current residence for a while, then the chances are you will have a few old tools lying around. If you have an old rake from an autumn gone by then why not try repurposing and redecorating it? You could remove the handle and make it into an attractive wall hanging, or just keep it as it and leave it out as a focal point in your garden.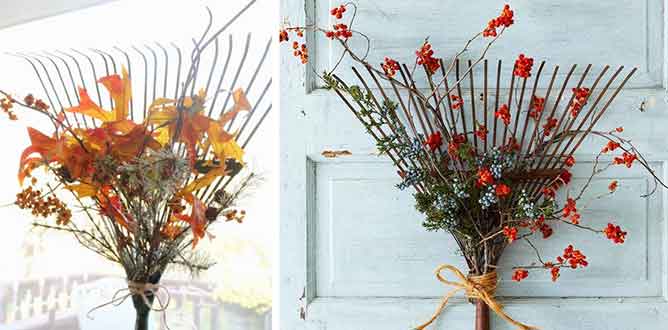 If you want to enjoy your garden throughout autumn, make sure that you wrap up warm. Having a blanket box near to hand by a backdoor or in a conservatory can be a wonderful idea.
Autumn is a wonderful time of year and you should make an effort to embrace the wonderful colours that make the season as distinctive as it is. It doesn't matter whether your garden is large or not, even the most modest budget can be stretched to create a space you can enjoy this autumn.