Pear Trees
Biting into a succulent, perfectly-ripe pear is one of the joys of autumn. You may be lucky enough to have one in your garden already that someone else has planted, but if not, they are easy to establish – you can even grow them in containers. There are both cooking and eating pears available and like apples most require a pollinating partner. However there are self-fertile varieties available too if you only have space for one. 'Conference' is an excellent self-fertile variety.
Plum Trees
Another very popular fruit tree, plums are an incredibly versatile fruit. The most desired is the 'Victoria' on a 'Pixie' rootstock. This tree will only get to around 3m which makes it perfect for smaller gardens but still produces significant amounts of fruit.
Fig Trees
To grow figs successfully outdoors in cooler climates, it is important to choose the correct hardy cultivar. 'Brown Turkey' is the best suited for our UK climate. It is best planted against a sunny wall and may require winter protection if temperatures remain very cold for prolonged periods. Figs grow well in containers and often fruit better when their roots are restricted. Fruit develop without flowers or pollination – even a single plant provides a successful crop.
Blueberries
Not only are blueberries very productive, they also provide an ornamental feature in gardens because of their glorious autumn colours. The fruit is delicious and extremely high in antioxidants, so many people regard it as a 'super fruit'. They can be grown in the garden, but also make very popular container plants. They do require ericaceous soil and will produce higher yields when planted in groups.

Apple Trees
Apples are probably the easiest tree fruit to grow and the most popular with gardeners. You may be lucky enough to have one in your garden already, but if not, they are easy to establish. There are many varieties of apples, but they broadly fall into two categories: dessert apples for eating, and cookers, as the name suggest, for cooking. Some are dual-purpose, so suitable for both uses. Many varieties require one, sometimes two, pollinating partners. The easy way around this is to select a self-fertile variety, such as 'Cox's Orange Pippin' or 'Scrumptious'.

Strawberries
Strawberries are incredibly easy to grow. They make a great introduction to adults and children when starting out 'growing your own'. Strawberry plants can be grown almost anywhere – in borders, containers or hanging baskets as long as they get plenty of sunshine. There is nothing quite like the flavour and taste of a freshly picked strawberry from your own garden.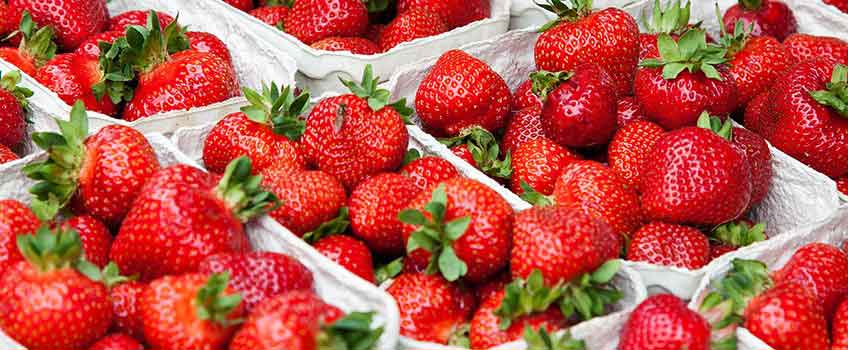 Cherry Trees
Cherry are becoming increasingly more popular. There are essentially sweet Cherries and cooking varieties. There is no need to worry about pollination partners as many are self-fertile. They are easy to grow but you may find you will need to net the fruit to stop the birds beating you to it!
Redcurrants
Although redcurrants are closely related to blackcurrants, they are in fact grown more like gooseberries. These cool-climate plants do well in northern regions and will tolerate part shade, although the fruits will ripen more quickly and taste sweeter if given some full sun.