For many of us, the focus for a barbecue is on the meat: from BBQ chicken wings to burgers and steaks, summer dining is a carnivore's dream. However, for those of us who are watching our meat consumption -or avoiding it altogether- there's a pleasing variety of delicious seasonal, British-grown produce that's just crying out for the grill: check out the vegetable and herb recipes below. Why not pop into Burston and pick up one of our Weber vegetable baskets which are perfect for getting the most out of your veg on the barbecue!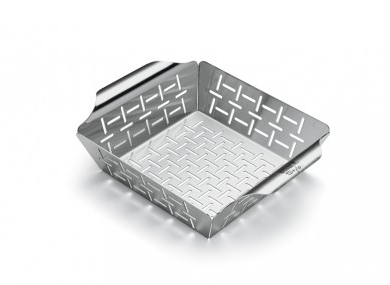 Garlic & Rosemary Chunky Potato Slices
So easy to make, and yet so filling and tasty. Cut your potatoes into thick slices and grill well on both sides. When cooked, dress with a liberal dose of good olive oil with a little garlic mashed in, and add a sprinkling of rosemary and seasalt.
Middle Eastern Griddled Aubergines
Aubergines are the perfect seasonal summer vegetable, and stand up well to a good grilling. This dish makes a good veggie side, or even a main (with the addition of some tasty grilled halloumi or crumbled feta). Simply slice your two aubergines lengthways, and dress with a mix of 2 tablespoons of olive oil, 3 tablespoons of tahini paste, a crushed garlic clove, and the juice of one lemon. Sprinkle with fresh mint, parsley, and coriander to serve.
BBQ Tomatoes with Basil Viniagrette
Don't forget the humble British tomato! No longer just an accompaniment to a cooked breakfast, grilled tomatoes can be the star of the show with a great dressing. Dress 6 grilled tomatoes with 2 tablespoons of balsamic vinegar, 2 tablespoons of basil, a little salt and pepper, and 3 tablespoons of olive oil.
What Herbs to use with your Barbecue Recipes
If you're looking to experiment with flavours then this handy cheat sheet should help you out.