This month in the restaurant we will offering you a different flavoured scone served with clotted cream, jam and regular tea or filtered coffee for £4.05 as part of our Scone of the Week promotion.
This week we are tempting in with this week's scone: Cherry and Almond.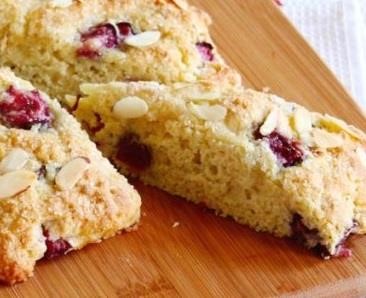 If you fancy trying to make a batch of your own, here is the recipe (makes 15):
Ingredients – Cherry & Almond Scones
800g self raising flour

160g butter

400ml milk

150g caster sugar

100g glace cherries

100g ground almonds

2 capfuls of almond essence

a few flaked almonds (to sprinkle on top)
Method
Start by heat your oven to 220C/425F (Gas mark 7). Rub together the flour and butter before stirring in the sugar. The milk should then be stirred in before adding the glace cherries, ground almonds and almond essence then working the mixture into a soft dough. Lightly flour a board and turn your dough out onto the surface before kneading it lightly for 2 minutes. Roll the dough out to the desired thickness before cutting out your scones (alternatively you can shape your dough into a round before cutting it into wedges). Spray a baking sheet with vegetables and transfer your shaped dough onto it before baking for around 15 minutes (or until golden brown).