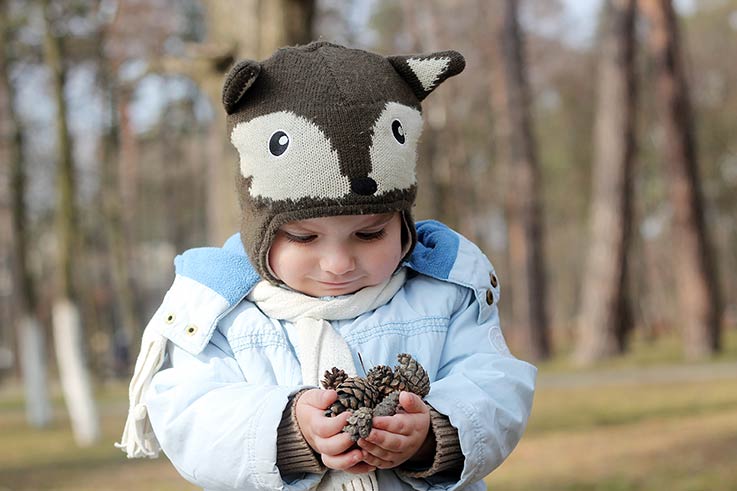 Winter can be a difficult time for wildlife, particularly for wild birds. As the temperatures drop, the food that they normally eat becomes a lot harder for them to find.
Below, we have a fun activity for kids to take part in, that will help the birds survive the cold winter ahead!
Items needed:
Unscented/untreated pinecones

1 x small pouch of wild bird seed mix
How to make your bird feeder:
Collect some pinecones on your next winter walk with the family. (If you struggle to find some in your area, they can also be purchased from most craft shops). You must ensure that they are unscented and haven't been treated with anything that may be detrimental to the bird's health.

If the pinecones are damp, leave them in a dry, sunny place for 1-2 days to dry them out.

Tie some string to the top of each pinecone. If the pinecone has a sturdy stem, simply knot the string around the stem.

The next step is the messy bit! Coat the pinecone in nutritious peanut butter. Use a spatula or butter knife to press the peanut butter into all the gaps between the pinecone's scales. Then, spread a thick coating of peanut butter over the entire surface of the pinecone.

Once the pinecone is completely covered, the next step is to roll it in your chosen bird seed blend.

Fill a bowl with bird seed (We recommend Gardman's Wild bird seed mix – available for £1.99 in store). Roll each pinecone in the seed until the peanut butter is fully coated. (You may need to use a spoon to get the seed into all the crevices).

Once finished, hang the pinecone on a nearby branch and watch as the birds fly in for a tasty winter treat!