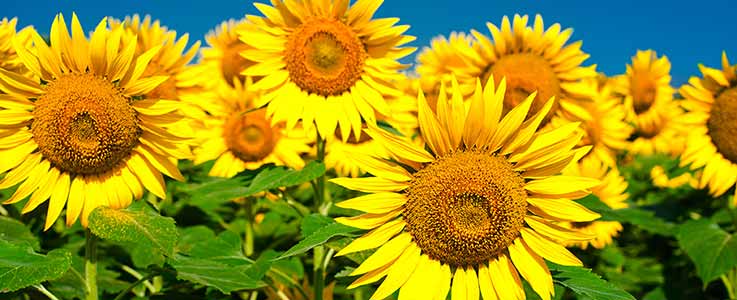 We love to encourage the younger generation to grow – whether it's flowers, veg or fruit, we don't mind! With that in mind, we have a new competition to find the biggest and best sunflower grown by your little ones! There'll be a kid's gardening bundle for the winner and all you need to do to enter is post your photo on our sunflower competition page on Facebook. The winner will be chosen by our very knowledgeable plants team (and don't worry we're going to join in for fun too!) and judging will by the end of August!
So just follow our handy step by step guide to plant the biggest and best sunflowers!
Step by Step Sunflower Planting
You will need;
A pack of sunflower seeds
Hints & tips: Check seed packaging for growing heights – we recommend 'Russian giant', a very tall variety!
Step One: Fill a 7.5cm plastic pot with multi-purpose compost leaving a 1cm gap at the top.

Step Two: Sow one seed per pot and cover with more compost until the pot is full.

Step Three: Water each pot until the compost is moist – don't be tempted to over-water.

Step Four: Cover the pots with a propagator lid or cloche and keep on the windowsill until May when they are ready to be planted outside. If you don't have a lid/cloche, you can make your own using an old plastic bottle. Always keep the compost moist .
Hints & tips: Google 'plastic bottle cloche' for instructions on how to make a homemade cloche!
Step Five: In May, the seedlings can be planted outside in a sunny, well prepared flower bed or large pot. We advise putting them in a spot where there will receive at least 6 hours of direct sunlight a day.
Hints & tips: We recommend using a child/pet friendly slug control product such as Neudorff's 'SLUGGO' to stop them from eating young shoots.
Step Six: Keep the young plants well-watered ensuring the compost never dries out. Once the flower heads open, they will need watering daily.

Step Seven: As the sunflowers get taller, they will need to be stabilised with a bamboo cane.
Hints & tips: For best results we recommend feeding every two weeks with an all-purpose fertiliser such as Miracle Gro or Phostrogen!