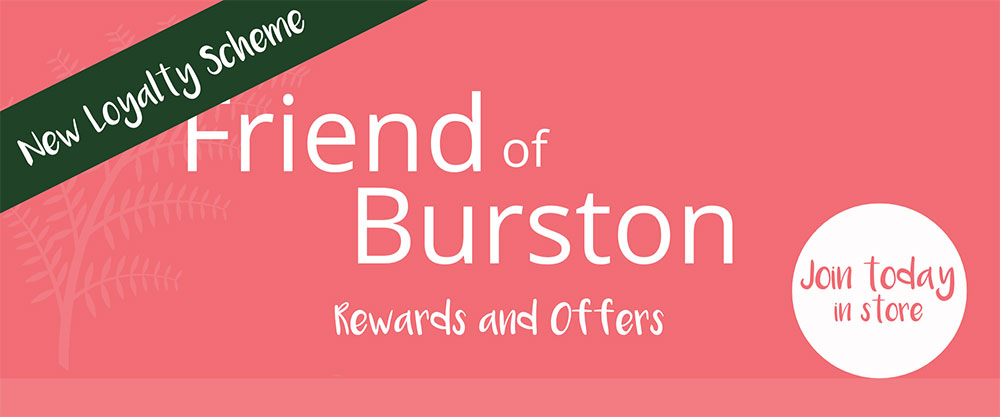 Terms & Conditions: Friends of Burston
Your Friend of Burston loyalty card can only be used by the named and registered member. It cannot be transferred or copied.
A valid loyalty card must be presented and scanned at the point of purchase in-centre to qualify for exclusive Friend of Burston member offers, discounts and points.
Your loyalty card must be presented when returning any goods allowing us to credit/debit the appropriate points from your card.
The Friend of Burston card is issued by and remains the property of Burston Garden Centre, who reserve the right to terminate the scheme without prior notice and/or, on reasonable grounds, withdraw or cancel any loyalty card that they feel has been subject to misuse or attempted misuse.
Friend of Burston loyalty scheme members can collect 2 points for every £1 spent in a single transaction (after discounts).

Points will be allocated to the account associated with the loyalty card scanned.

Points cannot be collected on CALOR in Burston Garden Centre and when purchasing gift cards or booking events through our website. Other exclusions may apply.

Points may be redeemed at any time as payment or part-payment of purchases made at the till. Only points appearing on the members account may be used.

Points collected may be used in their entirety or partially from the balance collected.

Any promotional vouchers linked to Burston Garden Centre loyalty scheme are non-transferable and are valid only for use by the Friend of Burston account holder.

Promotional vouchers associated with Friend of Burston membership terms and conditions apply and will be stated on the reverse of each voucher.

Burston Garden Centre reserves the right to alter the terms of the points system at any time.

Points gained will be removed/adjusted on returned/cancelled purchases, up to and including the point of zero.
Friend of Burston Monthly Offers:
Only valid with membership to loyalty scheme

Each offer valid for one month only