Opening hours
Mar 1st to Oct 31st
Mon-Sat: 9am-6pm
Sun: 10:30am-4:30pm
Nov 1st to Feb 28th
Mon-Sat: 9am-5pm
Sun: 10:30am-4:30pm
Closed
Christmas Day, Boxing Day, New Year's Day, Easter Sunday.
Contact Us
Are you looking to add the tranquillity to your garden that only a water feature can bring, whether that is a pond or a free-standing centrepiece? Our on-site aquatics centre has everything you need to create serenity in your garden. Why not bring a water-themed or exotic feature inside? We have a selection of cold water and tropical fish, and everything you need to create a talking point in your home.
Our comprehensive reptile section brings a real sense of excitement to the centre. From beautiful Leopard Geckos to iridescent jungle loving spiders, our specialist team are ready to guide you through everything you need to know to really enjoy these incredible creatures.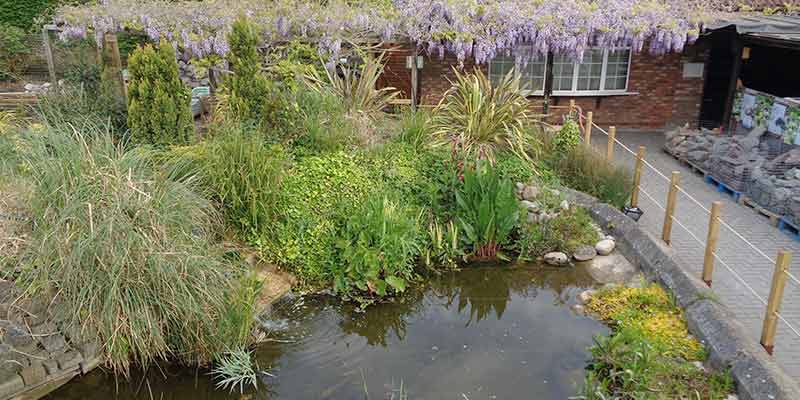 Hertfordshire Fisheries LTD is fully a licensed aquatic and reptile specialist  with a 5 star rating granted from St.Albans City C and District Council in accordance with the licensing of activities involving animals regulations 2018.
A 5 star rating is the highest level of achievement with regards to the welfare and husbandry of our animals. Our Licence number is LN/201900190.
Animal Welfare
(Licensing Act of Activities Involving Animals) (England)
Regulations 2018
St. Albans City & District Council, being the Licensing Authourity under the above Act, hereby License with a star rating of:

Mr. Richard Geary
of
Hertfordshire Fisheries Ltd, North Orbital Road, Chiswell Green,
St. Albans, Hertfordshire, AL2 2DS
To be able to undertake the following licensable activities:
Selling Animals as Pets
This License, unless previously cancelled, shall remain in force from 31/12/2018 until:
30th December 2021
GRANTED at the office of said authority at:
St Albans City & District Council
Community Services
Business Compliance
Civic Offices
St Peter's Street
Hertfordshire, AL1 3JE